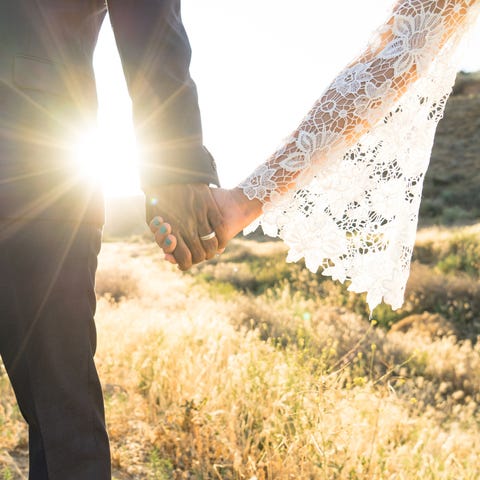 Jason_Lee_HughesGetty Images
These are difficult times and many couples are being forced to rethink any imminent wedding plans in the wake of coronavirus. The government has urged the British public to act responsibly, avoiding any non-essential social contact, and calling for self-isolation for anyone over the age of 70. Additionally, the Church of England has announced that it is limiting ceremonies to just five people. Such measures have prompted a number of brides and grooms to consider postponing their weddings out of safety for their guests.
While we all know that doing so is the most responsible, sensible route, it doesn't make anyone immune to feeling disappointed that a wedding that they may have spent months or even years planning can no longer go ahead when they hoped it would. It also doesn't stop anyone from feeling overwhelmed by the many challenges that come with postponing, not least the idea of financial loss.
We spoke to luxury wedding planner Audrey Ametis, who has provided a guide on everything you might need to know about pushing your nuptials back. Ametis, who runs her own wedding company, is also a lawyer, so she's well-equipped to be offering advice on the finer details. You can enlist Ametis' expertise through her website Audreyametisweddings.co.uk, or through The Wedding Gallery, the first ever wedding department store, which will also help with any broader queries.
If your wedding is within the next two months, postpone now
"Do not await further guidelines from the government to see what is coming next. For some vendors (your wedding vendors are your florist, cake designer, caterer, photographer, DJ, celebrant etc) it will be very difficult to postpone their work if you tell them last minute that you wish to delay your wedding. What you don't want is to be in a situation whereby you've paid the caterer and/or cake designer in full for instance and they start their work.
"Think of your caterer and cake designer, who in this instance would have already purchased all ingredients, paid their staff, prepared the food and designed and baked your wedding cake. In this circumstance, it would be too late and unfair to ask them for a refund; if you postpone the wedding date further, there will be additional costs for you."
Think about postponing, not cancelling
"If none of your guests can fly to the venue or if you have to deal with bereavement, trust me, you will want to be with them and share some good news in a year's time. If you are at the start of your wedding planning and all deposits are refundable, then you might consider it. However, first, you need to ask yourself: is it possible to do so? Before considering cancelling your wedding, I strongly advise you to review your vendors' terms and conditions. It is highly likely that deposits would be non-refundable, so what would be the advantage of cancelling your wedding then? If you cancel the wedding, you're back to square one and it is a financial risk. Postponing is the way to go, to help your vendors in these difficult circumstances of course, but also to protect yourself financially.
Call your guests, don't send them a message or hope they'll see any update on your wedding website
"A phone call is the fastest method to tell your guests about the postponement of your wedding, but more importantly to also check how they are doing. Most of your guests are worrying about their health, their family and jobs. They may not see any announcement on your wedding website. If you do have a planner, she/he can do a follow-up in writing by Whatsapp, email or by post for those with no computer access."
There should be minimal financial loss in postponing your wedding
"It all depends on what is written in your contract. Please check your rights and obligations and review the terms and conditions. You may have to pay a fee in order to postpone your wedding date. I recommend giving a call to your vendor: they may decide not to charge you an additional fee, even if it is written in the contract that they can do so, due to these exceptional circumstances. It really is a time when we should help each other. Important point to note: by postponing your wedding, there should not be a financial loss but there will be a risk that some of your preferred vendors won't be available.
Think about a new date now
"What is the point of postponing your wedding if your nearest and dearest cannot attend (due to travel bans or school closures for instance)? It can take four months or 12-18 months to plan your wedding, so you can postpone now but carry on your planning. You may decide to freeze any planning and reassess the situation in 12 weeks' time for instance. I would recommend rescheduling for a year's time to ascertain the situation… anywhere between six months to two years is good."
Consider the bigger picture
"Breathe and be grateful for your family, friends and jobs that you have. Unfortunately, there is nothing you can do. A wedding is the celebration of love with your family and friends. How many happy events in your lifetime will you be surrounded by all your family and all your friends? That's why weddings are unique. In these very difficult, exceptional times, where some of your guests will lose loved ones, or some may be laid off, now is the right time to focus on what is important and ask your guests, 'how are you?'"
A step-by-step guide to postponing your wedding:
Firstly, speak with your planner, if you have one. They will prepare a risk assessment table advising you of the financial impact of postponing your wedding. An important practical step: the first thing your planner will do will be to review the provisions in the contracts with the venue, vendors and insurance company. Beware: underwriters are currently amending their insurance policies, and please look at the contract exclusions: have you purchased a wedding insurance which does not cover for pandemic? Many don't, so read the small print. Special attention must be given to the exclusion and Force Majeure clauses, if any. Finally, please do not assume what the governing law of the contract is. For destination weddings, please check the governing law of the contracts, which may not necessarily be under English law if you are getting married abroad.
Secondly, I advise you circulate an email to all vendors (it should come from you directly, because this is such an important notice and also you have the legal relationship with the vendors). Draft your email, call the key vendors first out of courtesy, or leave a message. Entitle your email "Immediate attention required: our wedding on (DATE) is postponed". Do ask for an acknowledgment of receipt. Your email can be concise such as "Due to the unfortunate outbreak of Covid-19 in the UK, my fiancé and I have regrettably decided to postpone the wedding reception. The safety of our guests and vendors is the priority." Add that you will advise them very soon on a new proposed date.
Inform all your guests of the postponement of your wedding and check with the wedding party (parents, witnesses, key guests etc) when they could be available next. Say that you will provide further details soon.
Immediately, check with your venue their availability on your new proposed date(s). You will have more leverage and more options if you decide to get married off-peak and mid-week, if you can.
Finally, check with your vendors if they are available on your new date. Unfortunately there may be a situation where some of your vendors are not available on your new date. A solution to cope with that issue: ask yourselves what is the most important for us? You may have already built up a relationship with them. I would say the top three of vendors are (i) venue and celebrant if any (ii) catering (if not, think of the time to reorganise menu tasting, which may be a lengthy exercise… or fun, depending on your sensibility) and (iii) then photographer.

Like this article? SIGN UP TO OUR NEW NEWSLETTER to get more articles like this delivered straight to your inbox.
This content is created and maintained by a third party, and imported onto this page to help users provide their email addresses. You may be able to find more information about this and similar content at piano.io